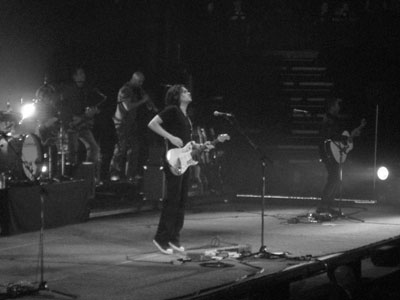 We had a blast Friday night! John Mayer was playing in the FedEx Forum and we had great seats. We decided in December that this would be our Valentine's present to each other (even though I still have to buy flowers and take Monica out to dinner). This is our second time to see him here, the first being at the Botanical Gardens down the street where he was playing with Herbie Hancock.
What can we say about John? For 2 hours he blew us away with his music. Seeing him live gives you a better appreciation of his mad vocal and guitar skills. He played his classics, like No Such Thing, Georgia, and Your Body is a Wonderland, as well a lot of stuff off his new album, Continuum, including my favorite, Gravity. Monica's favorite was Slow Dancing in a Burning Room, which was the finale.
Nothing really funny happened. We had a mini-fight when Monica decided I needed to get up and get her a beverage, but I eventually did my husbandry duty. We decided that they make the air really dry in arenas so you get thirsty. Anyway, John was incredible and it was an awesome Valentine's Day present.